It may sound like hyperbole but for me, there is really no other salve for what ails the soul than the fragrance of lovingly and freshly baked bread. And the best thing about it is that no matter where one goes in the world, bread is constant and universal, so there's always a chance of running into a comforting, filling, and delicious piece of bread.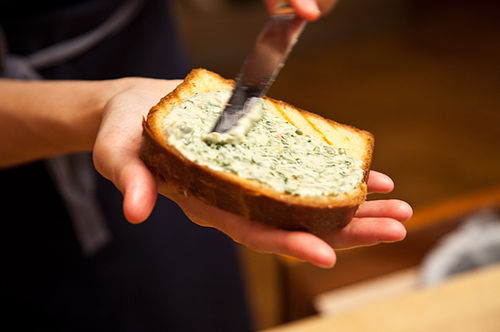 Image Source: food52.com
As a bread lover, I'm already spoilt for choice in the good old United States. In my home state, we have the Texas toast, which is like traditional pre-sliced sandwich bread but is thicker and ideal for sopping up gravies or for syrup-absorbing French toast. The biscuit, especially when eaten with honey or with sausage, is another favorite of mine – its marriage of crusty tops with fluffy interiors is a real match made in heaven. In neighboring Mexico, there are crisp, sweet and soft coffee buns, as well as the ubiquitous tortilla, which is used for so many recipes.
Speaking of flatbreads, India and Pakistan make such mouthwatering varieties, from the cracker-like papadum, which has a spicy lentil version that is perfect with sweet mango chutney, to the chewy naan, to the perfect curry companion, the roti. These breads share many similarities with varieties found in the Middle East and Africa.
Image Source: en.wikipedia.org
The Chinese mantou is traditionally not baked. Instead, the white bread is either steamed or deep fried and is sometimes stuffed with barbecued meat or vegetables and then it is called bao or baozi. In nearby Japan, locals swear by the anpan, a sweet roll typically filled with red bean paste but chestnut and green beans versions are also popular, and the melon bread which takes its name from its cantaloupe-like appearance. The melon bread has a sweet, crispy cookie exterior and a pillowy interior.
By way of Europe, fans of the pan, as they call bread in Spanish-speaking countries, are treated to French baguettes and the flaky and buttery croissant, the Spanish Pan de Leche, a sweet milk bread, and the German pumpernickel black bread, which is pretty popular stateside as well, having been brought by colonizers.
Image Source: youtube.com
As you can see, I've mentioned a lot already, but this list doesn't even begin to approach types I've tried, nor the endless varieties of breads found all over the globe. For a bread enthusiast like myself, the prospect of having so many kinds of breads to still discover is exciting.
Hello! I'm Pamela Rothe, Austin-based home baker. Subscribe to my blog and tell me about your favorite type of breads down at the comments section.